GoCardless integration
Get paid on time and reconcile invoices automatically with GoCardless.
Create the best membership experience with GoCardless for Clinic Software
GoCardless, the UK's leading Direct Debit provider, provides a simple way to get paid on time, everytime. 
With GoCardless for ClinicSoftware.com you can automate payment collection and reconciliation to improve cashflow and reduce admin dramatically.
Get paid on time
Collect payments automatically for your invoices and course instalments.
Reduce admin
Automate setting up Direct Debit mandates, then manage and reconcile all your payments automatically from within ClinicSoftware.
Stop chasing customers and automatically reconcile invoices with payments.
Better membership experience
Offer your members flexible payment options, collect membership fees on any day and even take one-off payments for extras like classes, events and in-store purchases. Enable customers to set up Direct Debits online or in person.
Reduce payment failure rates
With GoCardless, only 0.5% of payments fail, compared to up to 20% with card payments. You can also automate payment retries and we only charge for successful transactions.
Easy to switch
We'll help you seamlessly move Debit mandates from your existing Direct Debit provider to GoCardless.
Hassle free payments
84% of businesses that use accounting software spend less time chasing up unpaid invoices since connecting GoCardless.
81% of businesses that use accounting software have improved their cash flow since connecting GoCardless.
75% of businesses that use accounting software spend less time on payment reconciliation when they connect GoCardless.
77% of businesses that use accounting software have reduced their average debtor days since using GoCardless.
GoCardless for ClinicSoftware.com is designed to take the hassle out of regular billing.
A deep integration with ClinicSoftware.com combined with real time notifications puts you in control of your cashflow and customer relationships. The seamless integration makes it simple for you to automatically collect and reconcile payments with real time updates on payments status.
  Connect your account
Get started in minutes by connecting your GoCardless and ClinicSoftware accounts to the GoCardless for ClinicSoftware App.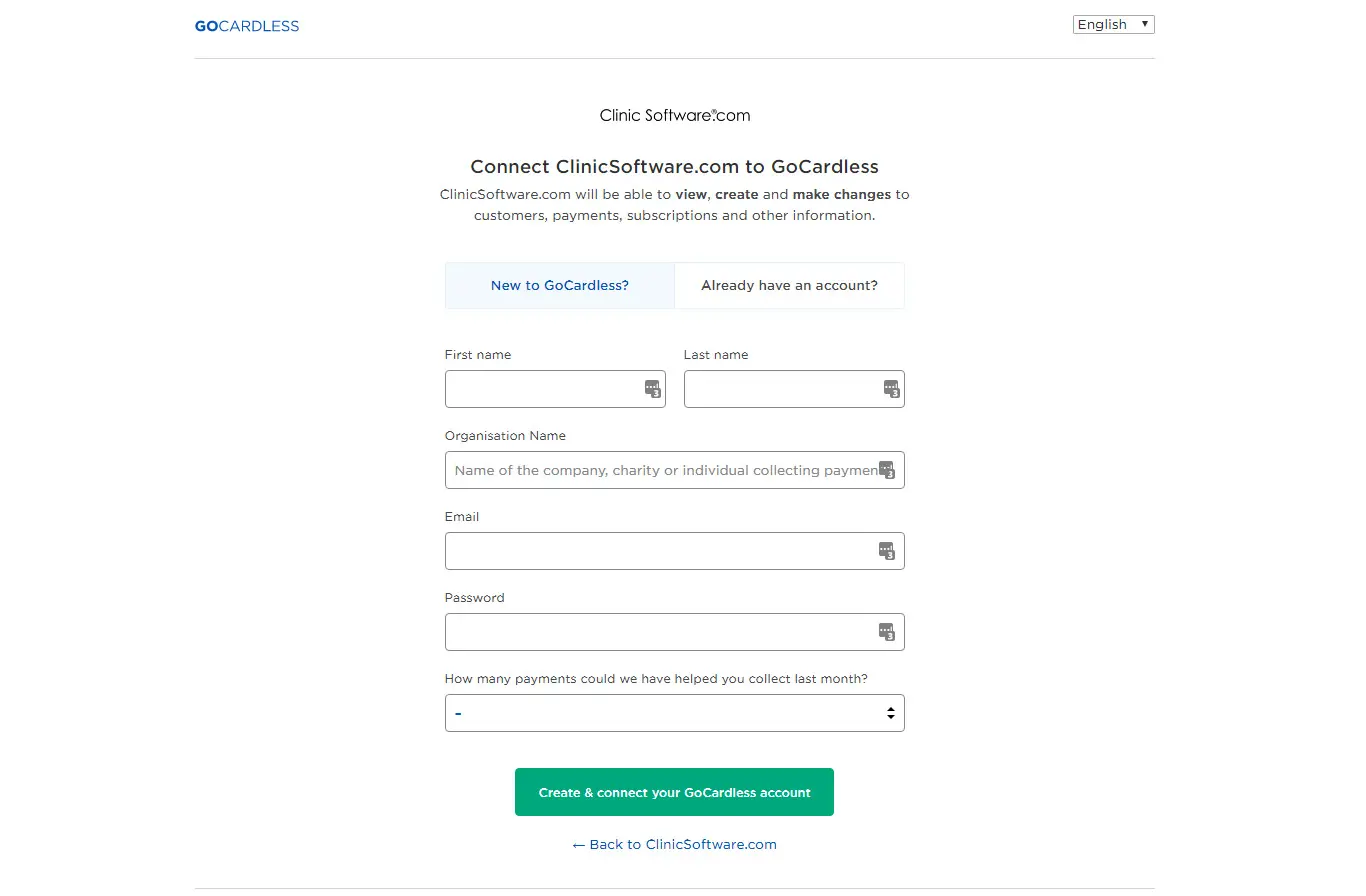 ---
  Set up your customers
Automatically send out requests to set up a Direct Debit when you create a customer in ClinicSoftware. Alternatively, manually email requests or import your existing GoCardless mandates and match them up to your ClinicSoftware customers.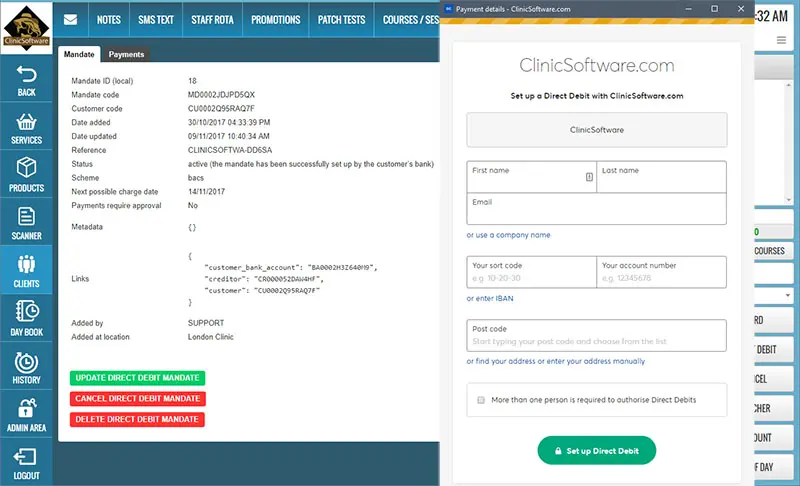 ---
  Start collecting payments
Each time you create an invoice in ClinicSoftware you can collect the payment automatically by Direct Debit on the invoice due date. Alternatively, you can collect payments on the course instalments. Collect payments in both Pounds and Euros.
---
  Automatically reconcile invoices
Once you've received a payment, the relevant invoice(s) and course instalments will be marked as paid. You can track and reconcile your invoices using the reports section.
---
More time to work on the big ideas
GoCardless for ClinicSoftware.com is fully integrated to support your business. 
Automating your payments eliminates cashflow concerns and reduces admin overheads.
The average small business in the UK spends 10 hours a week chasing late payments. Think what you could do with those extra 3 weeks a year!
---
Awarded The Most Innovative Fully Comprehensive 
Software Solution for Clinics, Salons and Spas
Clinic Software ®.com gives your entire company a 360-degree view of your customers, appointments and facilitates collaboration across your organization, helping you build strong customer relationships to run and grow your business.
Grow Sales. Save Time. Get Organized. Start today!
Integration is simple and it's free
You could be accepting Direct debit payments into your account in a matter of minutes.