Operating a clinic, spa, or salon comes with a unique set of challenges. One of the most common yet disruptive challenges is the prevalence of no-shows - clients who book appointments but fail to turn up. This can significantly impact your business, leading to wasted time, lost revenue, and reduced productivity. That's why we've developed a dedicated feature in our CRM software - the Reduce No-Shows feature.
Optimized Appointment Management
The primary purpose of the Reduce No-Shows feature is to enhance your appointment management. By offering tools that actively work to decrease the rate of client no-shows, you can better utilize your business hours and resources. This optimization not only improves your bottom line but also enhances overall client satisfaction, as the likelihood of overbooking or double-booking is minimized.
Automated Reminders and Confirmations
Our Reduce No-Shows feature includes automated appointment reminders and confirmations. These can be sent via email, SMS, or even through app notifications, depending on your clients' preferences. With these gentle reminders, clients are more likely to remember their appointments, reducing the chance of them being no-shows.
Flexible Rescheduling
Understanding that plans can change, we've incorporated easy and flexible rescheduling options. If a client can't make it to their appointment, they can quickly reschedule using the link provided in the reminder, allowing you to immediately open up that slot for other clients. This minimizes unoccupied slots and ensures that your schedule stays as full and efficient as possible.
Cancellation Policies and Fees
Our feature also allows you to set and communicate cancellation policies and potential no-show fees. This not only promotes respect for your services but also provides a gentle incentive for clients to cancel in a timely manner if they can't make their appointments, freeing up slots for others.
Analytical Insights
The Reduce No-Shows feature provides valuable data, showing trends in no-shows, and can identify clients who frequently miss appointments. These insights allow you to understand the extent of your no-show problem, devise strategies to address it, and make informed decisions about your appointment and cancellation policies.
In essence, our Reduce No-Shows feature is more than just a tool; it's a comprehensive solution designed to enhance your operations, save you money, and improve customer satisfaction. By minimizing missed appointments, you can optimize your schedule, maximize your revenue, and keep your business running smoothly. Leverage the power of the Reduce No-Shows feature and make your clinic, spa, or salon more efficient and profitable.
REDUCE NO-SHOWS
Cut no-shows by 79% with auto appointment reminder texts. Send thank you emails and get reviews on your treatments. Target customers by age, gender for email or SMS. Clinic Marketing Strategies is bulging with pre-set, SMS/text message campaigns ready to be set to work like your own in-house marketing manager. or, for those with more time and confidence, you can simply define and trigger your own campaigns.
Either way, SMS marketing has been shown once again, to be the the most powerful way of maintaining, strengthening and re-establishing customer relationships aside from in-Clinic contact. The mobile marketing systems are revolutionising how Clinic s market. Send emails and SMS Messages quickly and easily to simply remind them of their appointment or inform them of the latest offers in your Clinic.
Text and email is a great way to keep in touch with your customers. With Salon Marketing Strategies you have the option to send appointment reminders quickly and easily which not only give your customer a more personal experience, but also will help to eradicate expensive no shows.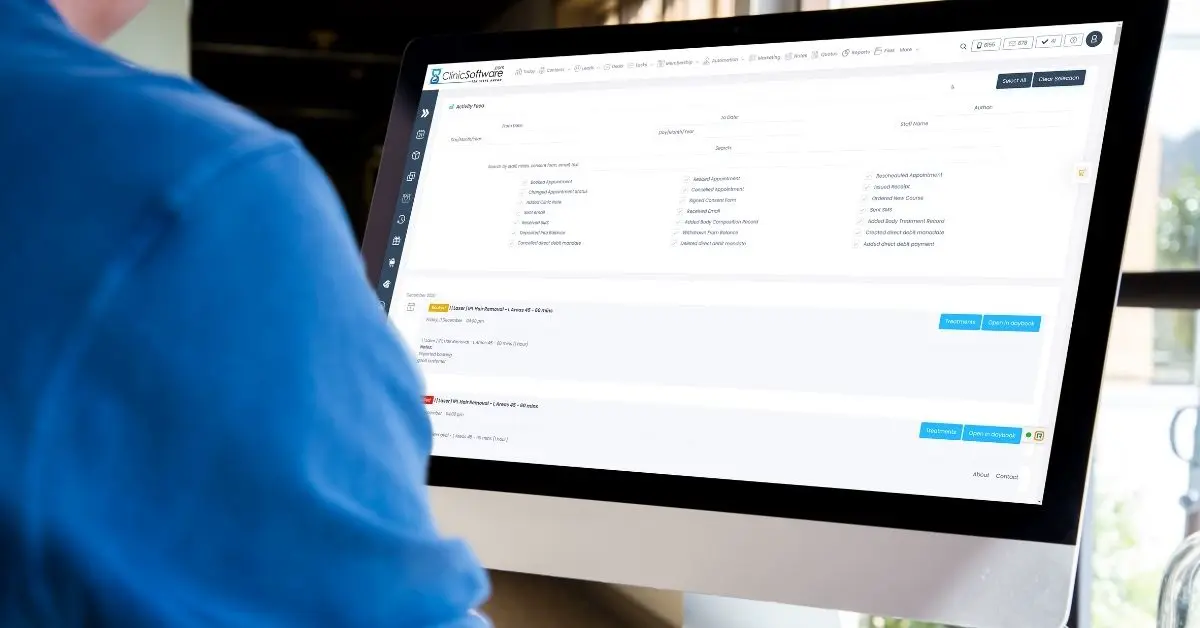 WHY ClinicSoftware.com?
Connect the dots
"Clinic Software®.com is a fully-comprehensive SaaS (Software as a Service) in cloud based created to help companies and appointment-based businesses of any industry and size such as Clinics, Spas and Salons with tools that helps to Grow Sales, Save Time & Get Organized."
ASK YOUR QUESTIONS