ClinicSoftware.com is happy to host a free integration with MailChimp!
What is MailChimp?
MailChimp is the ultimate software that will change the way you market your product on the internet. MailChimp is a simple email marketing software (EMS) which gives you a number of easy options for designing, sending and saving templates of your emails. The number of feasible options and the easy to use interface set MailChimp apart from other software, and this can be seen with the number of users that use this software, going well over a million users!

Would you like to track advanced email analytics such as the number of opens, click rates, and more?
MailChimp allows you to easily create newsletters of varying types and then provides simple options for sharing them on social networks such as Twitter or Facebook, making it your own personal platform for publishing your newsletter. Build a list of the people whom you want to market your products to, and save the list for use later on, and create custom templates for your products so that you do not have to rewrite mails again and again.
What does connecting CliniSsoftware.com to MailChimp do?
Our MailChimp integration automatically syncs all of your patients & customers from clinicsoftware.loc into a list of your choice in your MailChimp account. Connecting clinicsoftware.loc and MailChimp takes about 25 seconds and everything is taken care of for you from there. Our MailChimp integration automatically syncs all of your patients & customers from the software from your clinic reception, but from the online booking add-on as well of your website. Sync customer emails from clinicsoftware.loc into MailChimp lists for sending fast, professional communications with analytics and great response. Manage your clients and business like never before with clinicsoftware.loc .
Benefits of using this feature include:
Design email templates with your own branding
Integration with social networking increases the impact of your marketing
Get live stats about your email campaign
See more benefits here: http://mailchimp.com/features/all/
Attract more customers for your Business
Getting Started
Sign Up For A Free* MailChimp Account
1. Go to www.MailChimp.com and click the "Sign Up Free" button, and complete the required fields to signup.
2. You will receive an email to activate the account. Follow the link in the email.
3. After you activate the account, follow the steps on MailChimp to complete setting up your account.
4. Once your account is setup, you are ready to integrate that account with clinicsoftware.loc
Integrate Your New MailChimp Account With ClinicSoftware.com
Integrating your MailChimp account is easy! Just generate an API Key from MailChimp, and copy & paste that into your ClinicSoftware.com settings.
1. While logged in MailChimp, go to Account Setings (top right), expand the Extras area, and click "API Keys".
2. On the API Keys and Info page, click the grey "Create a Key" button. A key will be generated and displayed on that page.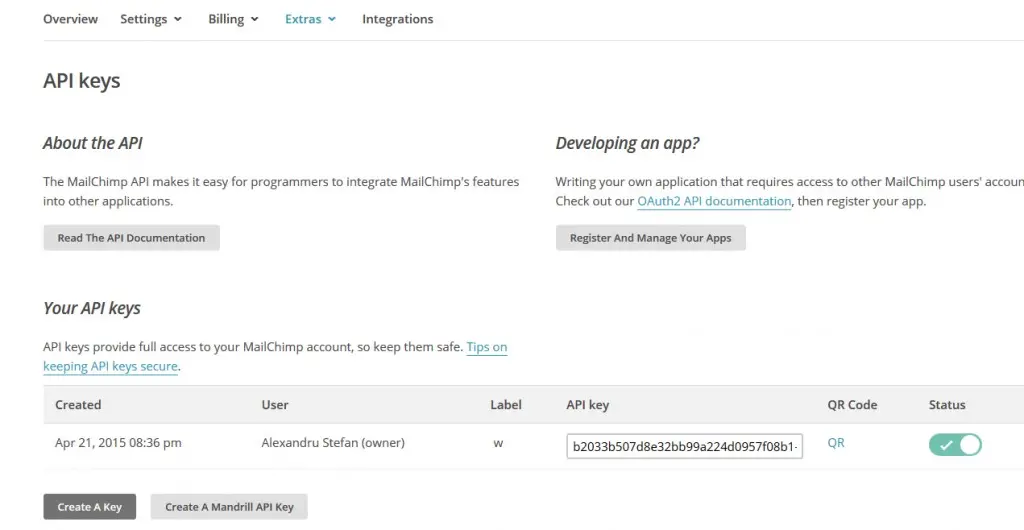 3. Copy the entire key as you will need to paste this in ClinicSoftware.com software.
4. While logged into ClinicSoftware.com as an admin user, click ADMIN AREA -> Settings .
5. Search "MailChimp" and In the MailChimp API Key window, simply paste in your API Key.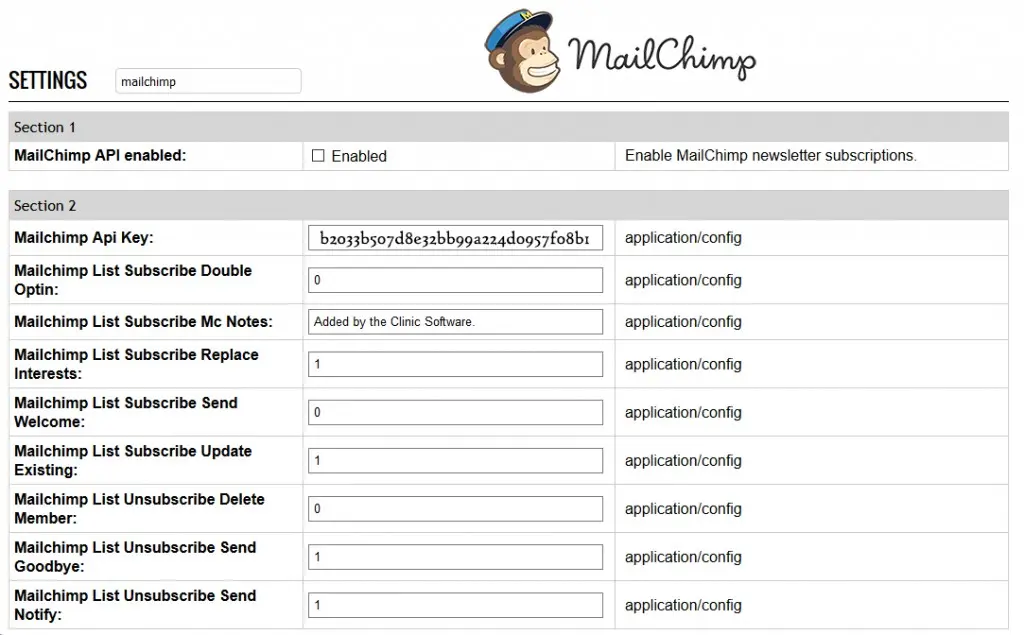 You also have few settings to when you Subscribe your customers. 1=yes ; 0=no .
6. Click Save. That's it!
Create A Mailing List
First, create a mailing list in MailChimp for ClinicSoftware.com to sync with. Creating a mailing list is easy!
Go to the lists menu in MailChimp.
Click the "Create list" button and follow the steps.
For more help creating a list in MailChimp, see this article: http://kb.mailchimp.com/article/how-do-i-create-a-new-list
Sync the list - Inside Settings you will see a "MailChimp List ID: ". You have to complete your list id in there. From that moment all the sync is totally automatically.
Create a Campaign
Once you have an email list, you can create a campaign to send to that list! 
Click the campaigns menu.
Click the "Create Campaign" button and follow the step-by-step directions.
For more detailed information on campaigns, see this article: http://kb.mailchimp.com/article/how-do-i-create-a-new-campaign
After you create a campaign and send it, you can sit back and watch your stats!
Note: Before you will start using MailChimp services please double check: Terms of Use and Anti-spam Requirements
There are many powerful features available in MailChimp to make your email campaign a success! We are excited to help you achieve this! For more tips subscribe to our newsletter. Thanks!