Take Your Business to the Next Level Today!
Enhance productivity with collaboration and customisation.
Drive innovation and scale quickly with industry leading solutions. ClinicSoftware.com can serve as a vital root centre to manage the many aspects needed in a growing business
At its simplest, ClinicSoftware.com can propel your business to greater heights of efficiency and growth than you ever thought possible. Consider using ClinicSoftware.com as the foundation for your continued success. Get started with the number 1 most comprehensive software for fast-growing businesses
Who gives you more?
Over and above the standard features you come to expect from a business management system, Clinic Software Add-ons goes even further to give you more! From Integrated features, through to 'Real time' online appointment bookings and total management, no stone has been left unturned.
Remote Online Back Up Clinic Software Add-ons Keep your critical files and data safe. Security for your business.
Security of business critical data and Business Continuity are vital issues that are high on the agendas of Senior Management, Directors and Partners. The ability to secure business and customer client data in the event of a disaster is essential to both the continuity of the business and the protection of customer and client's interests. Loss of data related to customers and clients can have adverse impact on an organisation, both up and down the business supply & delivery chains.
Your Secure 24/7 BackUp Edition is a secure Clinic Software Add-ons, automated backup system that intelligently backs up critical files to a remote or local storage server, ensuring that your business data is safely under corporate control and securely available from any connected computer.
For most ClinicSoftware.com users even if you have a small network of PC's, the Desktop product quoted below will be more than adequate as we can set 24/7 to back up the "Clinic " data and any other relevant documents. A server license solution is available for group environments where data is polled back to a central point and can be backed up on a global level. Please call for bespoke pricing and more information.
Remote Access Clinic Software Add-ons Complete control over your business wherever you are. Access from anywhere at any time.
ClinicSoftware.com offers a variety of options so that wherever you are you can keep in complete control of your business to ensure that even when you are away you can keep on top of day to day runnings. There are various ways in which you can access your data, speak to one of the sales team at ClinicSoftware.com who will be able to recommend which solution is best for your business. The client solutions allow you to perform centralised bookings, or simply dial in and see what's going on whilst you are away. The system is strictly password controlled ensuring that you decide who has access and to what.
Gift Cards, Voucher Cards, Loyalty Cards, Clinic Software Add-ons Reward your most valuable customers.
Gift cards, vouchers and loyalty cards are fully provided for within ClinicSoftware.com. Serial number tracking is available on issue and redemption. Both pre set amount and flexible value cards and vouchers are available. It offers a choice of single Clinic gift vouchers or vouchers that can be used across a group of Clinic s. In both cases balances can be checked on demand. Full reporting on activity and liability is included.
Customer Courses Cards Clinic Software Add-ons – Track your Customer activity Staff Rota Cards Clinic Software Add-ons.
Loyalty Cards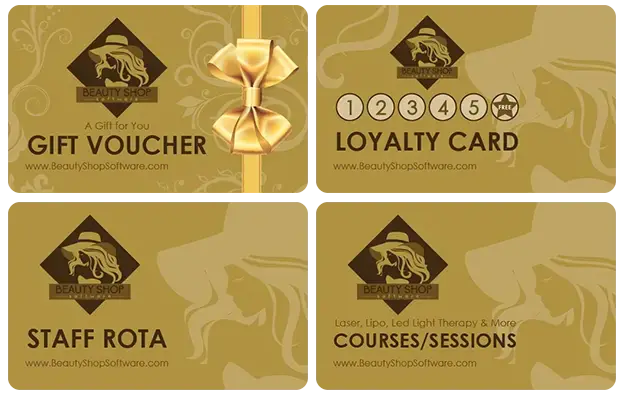 Keeping in touch with your clients and looking after them is key to client retention and a strong business. Over the years Client Loyalty Schemes have proven to increase both retention and client spend. ClinicSoftware.com incorporates a wealth of ways to automatically reward your clients. From simply rewarding total visit spend to targeting quite days and times of the week you wish you build up, products and services you wish to encourage, through to birthday and high flyer rewards, ClinicSoftware.com offers a flexible way to run your Client Reward Scheme. Full reporting is available on scheme activity and liability, customer receipts show the visit activity. You can even supply mini statements and market your clients using details extracted from their record card. Detailed reports are included on all aspects of both card and loyalty activity.
SMS Text Messages Clinic Software Add-ons
Text Marketing is about understanding your clients so that you retain them and introduce them to new products and services. ClinicSoftware.com provides advanced campaign management to help you do exactly that. When you have defined a campaign you can use it to send SMS messages.
Using the information Clinic Software Add-ons has stored, data can be used for all types of marketing strategies such as non-returning clients, upcoming birthday, clients not already purchasing products, clients purchasing only certain product lines and much, much more.
Email Marketing Newsletter
Email's an awesome tool for marketing your business. It's easy, it's efficient, and if you go through our feature, you will find out how easily you can deliver sales messages to people who sign up for them.
Low Cost email marketing totally automated and easy to setup
Event Promotions - Special Occasions - Target and Timely
A Reality 3D Virtual Tours allow your client to not just view your location but also to experience it. Want to find out more about the architecture? Then click on a Hotspot. With the rise in iDevices like the Android, iPad and iPhone interactive media is becoming increasingly used and expected in websites. So virtual tours now do not just illustrate, they educate in their own right. All of our virtual tours are custom built for each client.
Clinic Domain Names – Clinic Appointment Software Extras
The Clinic Domain Name is the first piece of marketing most of your visitors will see. Most importantly your domain name is an important part of your overall brand. It is very important to have the perfect domain name for your business.
Clinic Web Hosting – Clinic Appointment Software Extras
Great value, fully featured business-class web hosting.You'll get a service your business can rely on with business web hosting from ClinicSoftware.com . What's more, as we host your websites in London, UK data centres, they load faster for your UK visitors and customers. Get your business online in minutes and no setup charge. Get business class email with personalised email addresses. Business-grade with secure London UK data centres. Leading technology. Salon Appointment Software Extras. You might not be an enterprise, but you can benefit from enterprise-level technology at clinicsoftware.com . Businesses of all sizes succeed with our technology.
Clinic SSL Certificates – Clinic Appointment Software Extras
SSL Certificates allows information sent between the website host and your visitors to be encrypted in such a way that should a 3rd party intercept the information they would be unable to read it. They also act to confirm the domain name, owner and server that they are accessing. Certificates are commonplace on the internet and are symbolised by a padlock icon in the visitor's browser, they are essential for building consumer confidence and, as users become more savy, they are essential for e-commerce. 99% Browser Compatibility.
Clinic VPS Servers – Clinic Appointment Software Extras
Get your own root shell on one of our VPS hosting package. Our VPS let you have the root on a server as if you were on a true dedicated server, at a very low cost. Performances remain almost unchanged, as we don't put too many customers on the same hardware and provide tight monitoring. Instant Account Activation. Salon Appointment Software Extras. Don't wait for somebody to manually setup your VPS. Our solution is fully automated. As soon as you have paid for your VPS hosting, our scripts start and setup your VPS instantly, thanks to our instant account activation feature.
Clinic Dedicated Servers – Clinic Appointment Software Extras
Dedicated and Unique. For the ultimate in performance, availability and simplicity. ClinicSoftware.com Servers are custom designed to fit your requirements and come with complete management. Typically a dedicated server provider will give you access to a single machine on which to install all of your applications such as email, dns, databases, web server and control panel. Salon Appointment Software Extras. The more individual services your dedicated server is running, the more resources are used or reserved from the server as a whole. If one or more of these services becomes busy it can then reduce the performance of all other services resulting in a poor customer experience and downtime. Salon Appointment Software Extras dedicated servers come with specifically optimised separate containers for those less essential services, leaving your essential web and databases services free to use all the resources of your dedicated server without interruption or delay.
Clinic Website Design – Clinic Appointment Software Extras
With a strong emphasis on useability, all our our bespoke design and build services are geared towards creating user friendly websites which are easy to use and navigate. This will in return bring high conversion rates, with increased enquiries and ultimately profits! Salon Appointment Software Extras. There are endless possibilities to a website, whether you want a fully functioning, multi-level eCommerce website, or all encompassing brochure site detailing very aspect of your company with a built in Content Management System allowing you to edit and update the site when ever you want to, too a simple, information led site with limited features. Clear, inspired design = higher visitor conversion. Bespoke, unique design for every project. Engaging, innovative page layout. Latest Technologies: HTML5, CSS3, PHP.
Clinic Graphic Design – Clinic Appointment Software Extras
In today's modern, how your company is styled will have an instant impact on your potential customers. There's no getting away from it—looks do matter. Over the years we have turned our hand to most forms of graphic design. From logos to brochures and unique packaging projects, our design services meet no bounds. Logo design – corporate identity. Stationery. Corporate literature – Brochures, Leaflets. Advertising posters – large format. Postcards Invitations.
Clinic Flyer Design – Clinic Appointment Software Extras
If you're looking for affordable yet stylish flyers and leaflets you've come to the right place. We can create your leaflets and Company literature to the highest standards, from logo design to flyer design and stationery design. We like to think we know a thing or two about eye catching flyer and leaflet design, after all we've been doing it for over 10 years! Using the latest design ideas coupled with the most recent printing techniques, we can produce a cutting edge, hard hitting product that will really get you noticed.
Clinic Banners Design – Clinic Appointment Software Extras
Banner advertising is the most preferred way of getting your product noticed on the internet. Having an intelligently designed custom banner will go a long way in helping you advertise your product and drive traffic to your website. Banner advertising is a very effective tool to shape peoples opinion about your product and that is specifically why the importance of web based advertisement is increasing day by day.
Clinic Landing Pages – Clinic Appointment Software Extras
We follow a strict set of guidelines, including: For example Using a big headline and hero shot – A large colourful headline should dominate. Using a video – The interactivity keeps a customers attention. Using testimonials – Putting positive testimonials on your site can increase sales by 34%. Using an easy-to-complete form – Short form: Using the fewest fields you can and make the form as compact as possible. Action button above the fold – Place the key action button "above the fold", the area visible without scrolling. Show people – People are naturally drawn to people.
Clinic Logo Design – Clinic Appointment Software Extras
Design can give information about your business a character in the same way clothes and hairstyles do for people. But for us it's not just about fashion, it's more to do with clarity and credibility, and creating a unique identity that's special to you. Salon Appointment Software Extras design is a very powerful tool, and can reflect and emphasise what your business is all about. But it can also lie and mislead too. For us credible, truthful design is paramount and we never knowingly use it to mislead. We believe it's essential that the visual identity and branding of your organisation reflects the attention to detail and professional nature of the services or products you provide. We are committed to match that professionalism, and produce quality design and creative solutions that you will be proud of, and be confident that your target audience will respond positively.
Clinic SMS Marketing – Clinic Appointment Software Extras
SMS Mobile Marketing is an excellent platform for distribution information in applications where you need to get a message in a short space of time such as the following: Last minute offers. Special offers which are closing shortly. Announcement of sales information. Reach customers and prospects on mobile phones. Salon Appointment Software Extras Instant delivery of messages. Precise monitoring and tracking. Reach customers even if they don't have internet access. Whilst email marketing can provide more visually appealing and in-depth information, text marketing is very powerful if time is of the essence. Often the recipients may not have immediate access to email, but they will have access to their mobile phone. With the rapid growth in mobile devices, including smart phones, iPhones, iPads, you can't afford to be left behind. With such a prolific spread, the use of mobile devices for contacting people via mobiles or smart phones is quickly becoming the most popular method of contact!
Clinic eMail Marketing – Clinic Appointment Software Extras
A simple to use email editor allows you to easily create stunning emails. Personalise, add social sharing, RSS, dynamic content and edit images all with Drag'n'Drop functionality. Quickly create customer lists from data fields and behavioural information using a Drag'n'Drop query builder. Increase your engagement and ROI by sending targeted Campaigns. Once you have sent your campaign to your email list, share it on your own social media networks with one click to increase your reach and strengthen your marketing efforts. Learn how your campaigns perform with our in-depth reporting features. Salon Appointment Software Extras drill down into customer activity, social reach and mobile device usage then use the data for future sends!
Clinic Virtual Tours – Clinic Appointment Software Extras
Our Virtual Tours are the next best thing to actually being there. A Reality 3D Virtual Tours allow your client to not just view your location but also to experience it. Want to find out more about the architecture? Then click on a Hotspot. With the rise in iDevices like the Android, iPad and iPhone interactive media is becoming increasingly used and expected in websites. So virtual tours now do not just illustrate, they educate in their own right. All of our virtual tours are custom built for each client.
Clinic Website Maintenance – Clinic Appointment Software Extras
Our affordable website maintenance services include but aren't limited to: Content changes and additions (including adding or removing products or services you offer). Tweaking your site for improved search engine positioning. A design makeover for a fresh new look. Updates to event listings or your calendar schedule. Adding new photos or graphics. Copy writing and content editing. Checking your website's search engine positioning with the most important search engines and directories (Google, Yahoo, Bing). Checking web stats (number of visitors, keywords they used to find you, your bounce rate and more). We love using Google Analytics for this. Web stats are a great benchmark for optimizing and improving your site content. As you research possible linking strategies, we can assess the link partner you're considering for a link exchange (not all link exchanges are good ones).
Clinic eMail Hosting – Clinic Appointment Software Extras
Hosted business Email solutions make it possible for you to work anywhere, at anytime. Access your Emails, contacts, schedules and more through your desktop, web browser, iPhone and Windows mobile, all completely synchronised in real time. Hosted removes the cost, administration and resource commitments associated with setting up and managing your own Email server. Leave us to look after the hardware and software, freeing you to run your business.
Clinic Pay Per Click – Clinic Appointment Software Extras
Our PPC service is all about delivering great results, fast. We build campaigns on an understanding of your brand and business goals, using a blend of our specialist knowledge and industry tools to create a strategy that is finely tuned to your business needs. Clinic Appointment Software Extras service helps you to maximise the value of your campaigns. Our team will work with yours to ensure that best practices are being followed. Our reports are not standard. Rather than providing a fixed and inflexible dashboard we provide exactly what you want, when you want it.
Clinic Link Building – Clinic Appointment Software Extras
HIGH QUALITY Links can come in various shapes and sizes and all offer a different value to a website. Using the knowledge and experience gained from many years of link building, combined with our in-house tools and analysis, we are able to find the right links for clients and help them achieve great rankings. Great rankings are what bring in traffic and traffic is what brings customers and clients to your door. International link building for worldwide SEO campaigns is even more complex, but with our pioneering link building tools and approaches we are generating fantastic results both in the UK and around the globe.
Clinic Social Media – Clinic Appointment Software Extras
What does social media contribute? An exciting new sales channel. Generate dialogue with customers. Meet customer needs. Gold mine that few companies reach. Our Clinic Appointment Software Extras Social Media Marketing Services Include: Lead Generation. Network Management. Social Media Advertising. Blogger Outreach. Social Application Development. Social & Email Integration.
Clinic SEO Ready Websites – Clinic Appointment Software Extras
In the present day world of business there is a need for the companies and organizations to have a website of their own. A website is like a window of the businesses for the rest of the online world. The better is the design of the website the more would be the number of people who would be getting attracted and might be tempted to turn into potential customers. The need of an SEO Ready Website arises from the fact that the better is the ranking of the website on the search engine result pages the better are the chances of that website being viewed by a large number of people. Opting for a web design is like building a shop that would always be open even while you are asleep. Salon Appointment Software Extras would help you in creating a website that you desire. We have the expertise in building the custom website for you that would help you in carving the brand image that should be created. The creations we make help you in harnessing your business in the following ways: Expand your brand on the web. Create and increase awareness about your products and services. Offer informative content that your visitors can benefit from. Generate leads and generate sales.
Clinic SEO Services – Clinic Appointment Software Extras
SEO is process of optimising your website to ensure that the search engines can understand all the information contained on your website. By optimising your website, you are much more likely to achieve high rankings in the search engines, and therefore convert more often. Unlike many other web agencies, we live and breath SEO right now. We're constantly keeping up to date with the search engine algorithm changes, and we thrive on generating great results for our clients. It's extremely important to factor website optimising and SEO into your marketing plan. We will take care of everything from keyword research, on-site optimisation, off-site optimisation and rank tracking. Salon Appointment Software Extras will provide you reports once a month, and we're always at the end of a telephone or email to answer any questions or queries you may have.
Clinic SEO Article – Clinic Appointment Software Extras
The days of SEO copywriting being a case of forcing your keyword onto the page as many times as possible are gone. The key now is to provide content that both users and search engines will love. Great copy can bring numerous benefits, far beyond the old approach of keyword stuffing and lack of creativity. These benefits include: Longtail rankings. Natural links to interesting content. Improved conversion rate. Better engagement with customers. There are many different types of content that your website could benefit from. This might be optimised landing page copy that will help your key sales pages rank in the search results, or it could be blog content which helps draw in new readers and attract links to your site. The key is to create valuable content throughout your website which will engage, entertain and persuade readers to take the action you wish. That might be sign up for a newsletter, fill out a lead generation form or purchase a product, but whatever the outcome, quality copy can make it happen with our Salon Appointment Software Extras.